mūsae is an educational platform inspired by and for 18/35 year olds to de-dramatize sustainable issues through a holistic (i.e. multidisciplinary), positive, and actionable editorial perspective.
The topics of choice are mental health, social inclusion and the environment.
Side A: the media part to inform, open perspectives and propose citizen ideas to engage tomorrow's generations on sustainable issues
Side B: the lab part to inspire and accompany organizations (companies, NGOs and local authorities) that wish to communicate in an authentic and sustainable way.
What is the purpose of mūsae?
To de-dramatize sustainable issues and encourage civic engagement (whatever it may be).
⟶ Because we believe that sustainable issues will become a priority once they are accessible to everyone.
⟶ Because it is important that everyone feels concerned and legitimate to contribute to the building of a brighter future
⟶ Because it is becoming urgent to take the time to question the world around us, mūsae provides keys to better understand the issues of tomorrow and take part in the debate.
mūsae, for whom?
For 18/35 year olds as well as all those who are not (yet) activists but who are seriously starting to question the kind of world they want to live in tomorrow.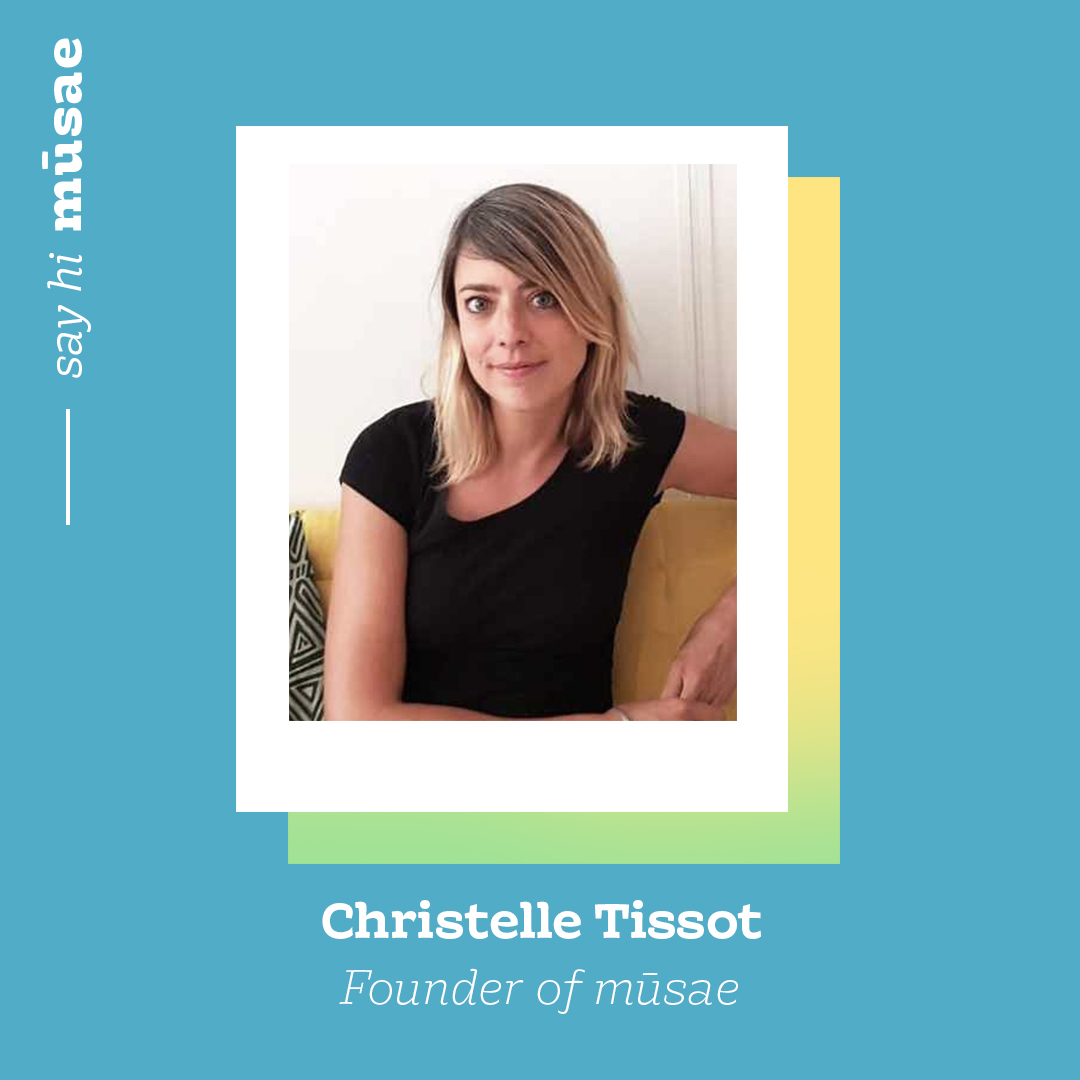 Christelle Tissot, founder
Origins: they are resolutely mountainous, I was born in Haute-Savoie in the Chamonix valley. It was there that I drew my passion for the freedom of the great outdoors, my awareness of ecology as I watched the Mer de Glace melt and of course my passion for cheese.
Role model: Frida Kahlo, her personal story, her creativity, her audacity and her strength. Despite the disenchantments she faced, she always found the resources within herself to carry her voice/voice loud and clear. She used to say of herself that she was her own muse.
Your A side and your B side: my dualism lies in my need to reconnect with nature and my deep attachment to Paris with whom I have a "love you, no more" story. I find my balance both by being alone in the mountains and galvanized by the frenzy of Paris.
If I had to choose one of the 17 UN Sustainable Development Goals: in reality, you can't choose just one because they must be considered as a whole for the project to work. But the one that touches me the most is Sustainable Development Goal number 3: the one related to health and mental well-being. Spontaneously, few people associate it with sustainable issues in the same way as the environment or social inclusion. And yet, society is made up of a multitude of individualities. If each person is well with themselves, then they can be well with others and contribute to the collective. Mental health is the driving force that allows us to build together a future that is more respectful of life and the Earth. No wonder this is the first thematic dossier of mūsae.
Mantra: keep it fresh.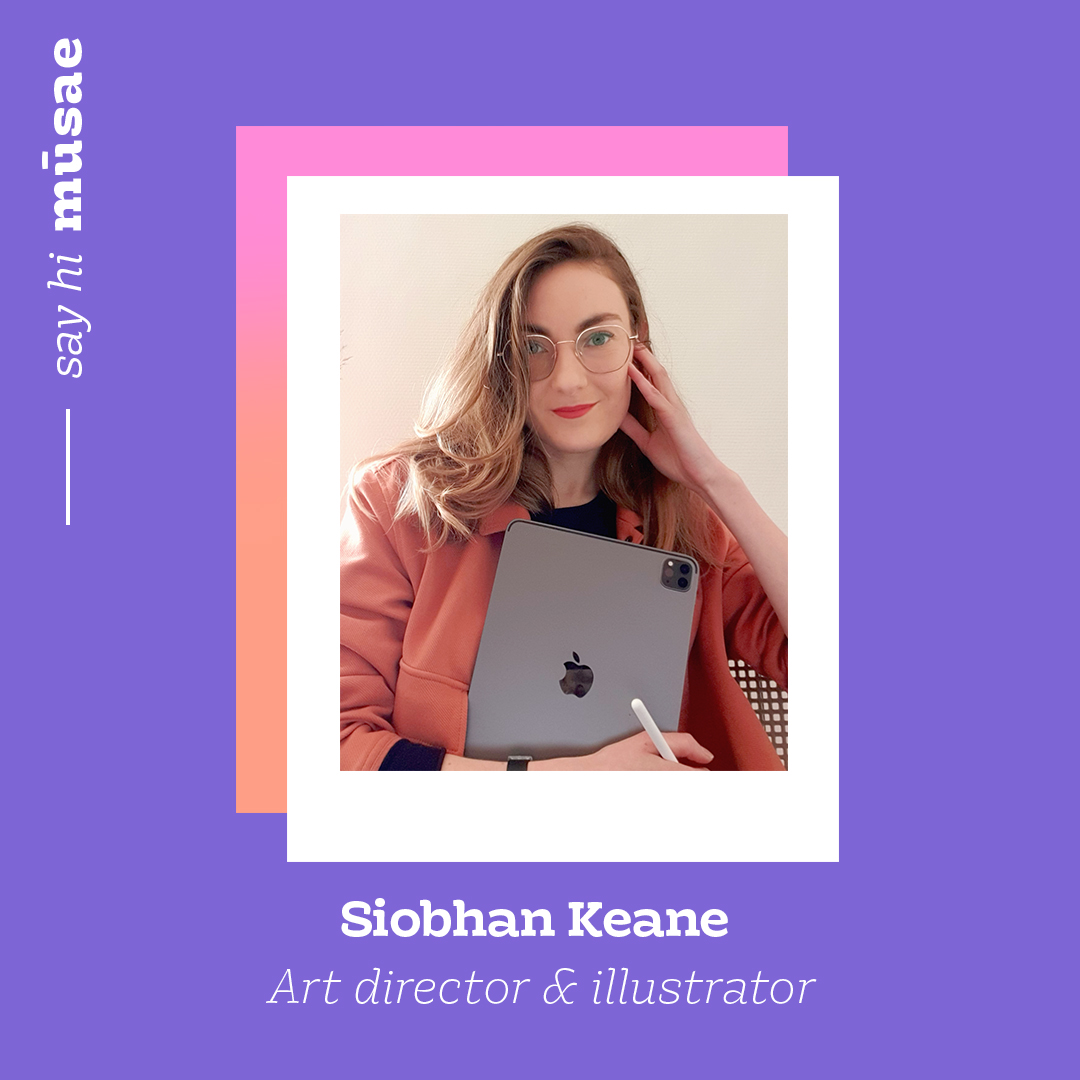 Siobhan Keane, illustrator and artistic director
Origins: I was born in France, to an Irish father (hence my first name), and an Italian/German mother (hence my love for pizza and currywursts). Both are great travelers, and this openness to the world has rocked my childhood and given me a taste for discovery, be it geographical, cultural, historical, social, gastronomic, or of course artistic.
Role model: when I need a boost to get out of my comfort zone, I always think of Freddy Mercury. I admire him for his voice, obviously, his sensitivity, his flamboyance… But also because he is someone who took his destiny in hand. To become the leader of a rock band / world sex symbol with such an atypical dentition seems impossible to you? Well no, on the contrary!
Your A and B sides: when I create, I am full of energy and enthusiasm, ideas flow and nothing stops me! Then I turn into a couch potato and I can watch 5 episodes of "secrets of history" in a row while drinking as many thyme teas. We're not here to judge, okay?
If you had to choose one of the 17 Sustainable Development Goals of the UN: it's hard to choose just one… Finally, if I have to, I'll say number 4: make accessible, inclusive, equitable quality education.
Why? Because, for me, education / transmission is the basis of a better future (and yeah nothing else!) This is also what appeals to me about mūsae: the willingness to make accessible and positive information that, presented otherwise, just makes you want to bury your head in the sand. Giving tools to this generation, and the next, to mature their own thinking about the world: it's still a super good reason to get up in the morning, right?
Mantra : I change it often, but at the moment I like "start somewhere", it allows me to let go a bit, to test things without pressure and thus to progress !
For your bimonthly dose of sustainable and civic-minded inspiration, sign up for the mūsae newsletter.